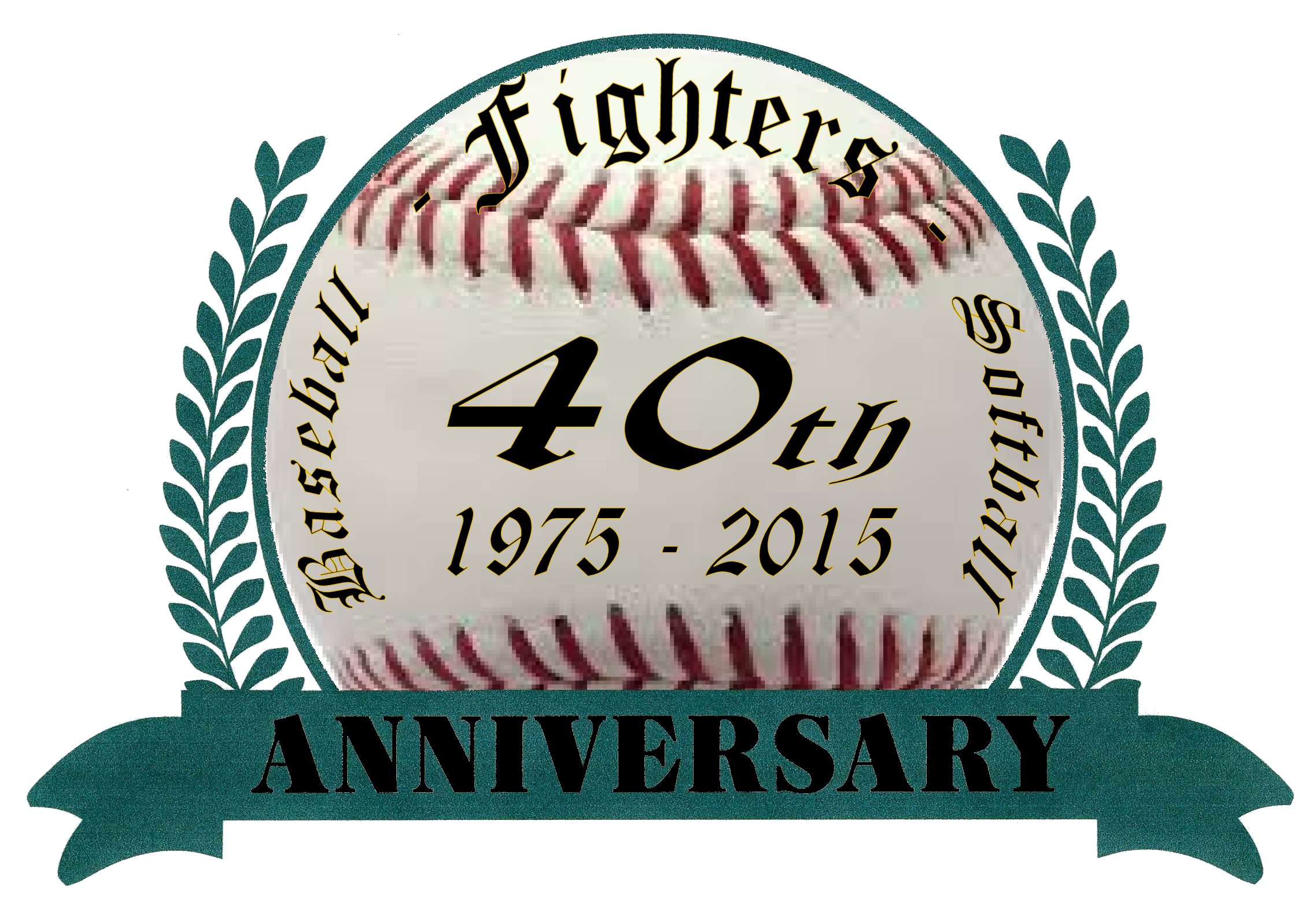 Fighters blev officielt etableret i 1975. Inden da, bestod de af en gruppe Japanere i Danmark, der lejlighedsvis mødtes for at spille Baseball på hobby og motionsplan. (fra starten af 1970'erne).
Fra 1970-1975 bestod klubben primært af Japanere eller Japanere med dansk statsborgerskab og i starten af 70'erne kaldte de sig for Asahi (English: Rising Sun). Asahi spillede primært baseball imod folk fra "Japan Airlines" og den Amerikanske Ambasade, og senere når det kunne lade sig gøre, spillede de også mod Danske hold, der startede med at udvikle sig i 1970'erne.
Navnet Asahi var dog alt for svært for Danskerne at udtale - hvorfor man ved en afstemning i 1975 efter et meget tæt opgør, besluttede at klubben skulle hedde Fighters. (Der var close call mellem Giants og Fighters.)
Dansk Baseball Softball Forbund (DBSF / DBaSoF) holder stiftende generalforsamling i 1978 på Munkegårdsskolen med deltagelse af klubberne: Munkene, Gentofte,  Hørsholm BSK (1977), Pilegården Knights, ABC, Lynge Bats og Fighters.  Svend Eriksen blev DBSF's første formand. (Ære være hans minde.)
Da Dansk Baseball Softball Forbund blev etableret i 1978, tillod reglerne dengang kun rene Danske hold hvor alle skulle have dansk statsborgerskab og Fighters fik derfor ikke lov til at deltage i det officielle danske mesterskab i Baseball.
I 1980 blev der teknisk skrevet om i reglerne så Fighters fik lov til at deltage i det officielle Danske mesterskab, der deltog med en blanding af deltagere med Dansk- og Japansk Statsborgerskab.
I 1980 begyndte der desuden at komme medlemmer, som IKKE var af Japansk afstamning, som i øvrigt altid har været velkommen i følge Japansk tradition. (Amerikanere og mange andre nationer.)
Baseball havde (og har stadig) desværre svære kår i Danmark. Det er noget nært umuligt at få baner der er gode eller store nok til Baseball. Så i slutningen af 70'erne var alternativet at spille Softball, der kræver en mindre bane. Softball fik dog den positive betydning at flere kvinder kom ind i sporten og da der var flere klubber, der deltog i Softball, deltog Fighters  i disse turneringer for at få "duften" af baseball og boldspil når det nu var muligt. Fighters tilføjede derfor Baseball Softball allong til Fighters. Klubben var derfor også kendt som : Fighters eller Fighters Baseball Softball Club.
Senere var der kun eller primært fokus på "Softball" fra Dansk Baseball Softball Forbunds side og derfor måtte de få Baseball klubber, skifte helt over til at spille Softball.
Fighters, som hørte til København spillede altid i første division (Den bedste række den gang.) og havde i sin storhedstid også junior hold, samt hold i de lavere rækker. Fighters har gennem tiderne "avlet" flere landshold navne og internationale dommere samt medaljer i de danske turneringer.
Da baseball genopstod i Denmark omkring 1990 deltog Fighters selvfølgelig som en af de første klubber. Fighters fokus gik mere og mere over i Baseball og stoppede til sidst med at spille Softball i de aktive og løbende turneringer.
I starten af 1990 begyndte klubben deres rejse rundt i europa for at deltage i de internationale turneringer.
I 1991 besluttede Fighters, at de ville afholde og genvinde det Danske mesterskab i Baseball i 1992. Drømmen blev til virkelighed og det første rigtige officielle Danske mesterskab blev afholdt.
Fighters, som altid har været en international Club, ønskede at være mere international og tilføjede derfor i 90'erne Copenhagen til navnet for lave reklame for Baseball i udlandet og sørge for at de andre lande var klar over at man kom fra København / Danmark. Derfor blev klubben også kendt som:
Fighters, Fighters Baseball Softball Club - Copenhagen Denmark, Fighters Baseball Softball Club - Copenhagen, Copenhagen Fighters Baseball Softball Club.
I 1999 bliver forbundet DBaSoF (Dansk Baseball Softball Forbund) slået sammen med Dansk Amerikansk Fodbold Forbund (DAFF) i et fælles forbund under DIF: Dansk Amerikansk Idræts Forbund (DAIF).  Sammenslutningen sker efter DIF's anvisninger.
I 1999 blev Fighters Danske Mestre for 5 år i træk og deltog ofte i Europa-Cup.
I dag stiller Københavns Kommune ikke længere en bane til rådighed for Fighters (Ja der bliver godt nok tråd på os.), Der er vist Cricket på vores gamle bane i Tingbjerg.
Baseball begynder at dø i Denmark og Fighters bliver nødt til at spille i det sydlige Sverige for at have mulighed for at spille Baseball.
I 2004 har Fighters ialt vundet 9 Danske Baseball mesterskaber. 
i 2008 bliver DAIF opløst og DBaSoF bliver splittet op i Dansk Softball Forbund (DSoF) www.softball.dk og Dansk Baseball Forbund (DBaF) www.baseball.dk 
Kun DSoF bibevarer medlemskabet af DIF.
I dag er Fighters Baseball Softball Club – gået tilbage til sine rødder. Klubben består mest af gamle old-boys og æres-medlemmer og spillere og er tilbage på hygge, socialt, slowpitch, supersenior og motionsmæssigt plan. De yngste medlemmer spiller dog stadig aktivt i andre klubber, men de er altid velkomne til arrangementer i deres fødeklub Fighters.
Derfor er der som sådan ikke længere åben adgang for nye medlemmer, men venner og bekendte er velkomne og vi forsøger at samle os når der f.eks. er super-senior og old-boys arrangementer. Ønsker du at spille så henviser vi til f.eks. http://www.copenhagensoftball.dk hvor nogle af vores medlemmer i øjeblikket svinger battet.
Man finder også ofte Fighters som tilskuere til de større Softball og Baseball arrangementer eller endog som dommere eller frivillige hjælpere i softball , baseball og andre arrangementer
- - -
I August 2015 havde Fighters Baseball Softball Club - 40års jubilæum - Det skulle Fightes.
Medlemmer, tidligere spiller, aktiv / passiv medlem deltog hvor der var hygge og lidt softball for sjov.